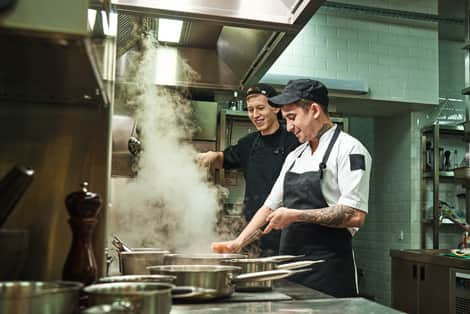 Obtain Your Food Manager Certification 100% Online
If you are looking to advance your career in the food industry or satisfy training requirements for your current role, online food manager training is a convenient pathway to a nationally accredited food manager certification.
Food managers are responsible for ensuring customer safety. They oversee the safe storage, preparation and service of food in the workplace. Many states legally require businesses in the food industry to have certified food managers on staff.
This training program can be completed 100% online, including the Food Protection Manager Certification Exam. You can take unlimited practice tests and complete your proctored certification exam online or at a nearby testing center.
Our program is accredited by the ANSI National Accreditation Board (ANAB), and it's available for individuals or teams. During registration, you can purchase a bundle including mobile-friendly training and the official certification exam. Or you can purchase the course or exam individually.
Who Needs Food Manager Certification?
Food manager certification is often required for managers and supervisors of workers who handle or prepare food. This training program and certification exam are designed for managers of employees who handle unpackaged food, utensils, food equipment and food-contact surfaces.
Depending on your state, local jurisdiction or employer, you may need to complete training and earn your food safety manager certification to work in a food manager role. Some states require at least one employee on staff to have a valid food manager certification. Contact your local health department to learn about specific requirements for training and certification in your area.
Topics Covered in Food Manager Certification Training
The food manager certification training program covers various themes related to food safety, illness prevention, personal and team hygiene, pest control and more. The goal is to give you the skills and knowledge needed to safely operate a food-related business, prevent foodborne illness and comply with local certification requirements.
When you complete this training, you will be able to:
Identify food safety risks and create policies to address them
Train employees to follow food safety policies
Create a plan to deal with employees who have a foodborne illness or are diagnosed with a reportable disease
Follow best practices for hygiene, including handwashing and personal care
Identify approved suppliers and methods for inspecting deliveries
Identify cross-contamination risks and how to prevent them
Implement effective cleaning and sanitizing procedures
Understand how to establish appropriate pest prevention and know how to identify the signs of pest infestation
Prevent bacterial growth using Time/Temperature Control for Safety (TCS) during the stages of food flow
Keep facilities and equipment in compliance with local regulations
Food Manager Training FAQs
Is your food manager certification exam accredited by any relevant agency?
Yes, our food manager certification exam is ANAB accredited, meaning it meets the standards required to obtain a nationally approved food manager certification. Our partner company StateFoodSafety is an accredited provider of food manager certification training — as well as certificate programs for food handlers, alcohol servers, restaurant employees and more.
Do I need to complete training to earn a food manager certification?
Completion of the training program is optional in most areas, but the program includes unlimited practices tests, videos and other course materials to help you prepare to pass the certification exam. Check your local requirements for food manager certification to find out if training is mandatory.
You must pass the exam to earn your food manager certification. If you don't need to complete training to comply with local requirements, you can purchase the exam alone during registration.
How long will my food manager certification last?
The term of the food manager certification is five years.
Is this exam equivalent to other food safety manager exams?
Yes, our exam is ANAB accredited and meets national standards for food manager certification programs. It is equivalent to the food protection manager certification from ServSafe (National Restaurant Association), the National Registry of Food Safety Professionals (NRFSP), Learn2Serve (360training.com) and Prometric.
What are the testing requirements for food manager certification?
To earn your certification, you must pass a proctored certification exam online or in person. When you sign up for the course, you can elect to take the exam online or at a nearby testing center.
The food manager certification exam includes 75 questions. You have up to 120 minutes to finish, but many exam takers finish in 60 minutes or less. In order to earn your certification, you must score at least 750 out of 1,000 points.
Is the food manager certification program available in other languages?
Yes, our food manager certification course and exam are available in multiple languages, including English, Spanish, Vietnamese and Chinese. The available languages may vary depending on your state or county. Select your location at the top of the page to visit StateFoodSafety and learn more.
How many attempts do I have to pass the certification exam?
You have one attempt to pass the proctored certification exam with a minimum passing score of 750/1,000 points. If you do not pass, you will need to repurchase the exam.
How long can I access the course and training videos?
After purchasing the course, you will have one year of unlimited access to all training videos and course materials. You can return anytime to rewatch videos and refresh your knowledge.
How do I get a replacement food manager certificate?
In most locations, you can log into your StateFoodSafety account to access and print replacement certificates while your certification is valid.
Log into your StateFoodSafety account
Locate the Certificates window on your dashboard
Find the digital version of your certificate and click View Certificate
Select Print or Email
If your local health department issued your original certificate, contact that department for information on how to replace your certificate.