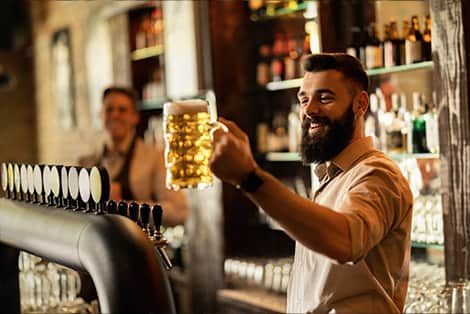 State-Approved Alcohol Seller-Server Training
If you are a bartender, alcohol server or cashier in a business where alcohol is sold, your state or employer may require you to complete alcohol seller-server training soon after starting work.
The most convenient way to obtain your seller-server training certificate is by choosing online training. At the end of the course, you can instantly download a certificate proving you have been trained to sell alcohol legally and responsibly.
Alcohol seller-server courses allow you to learn at your own pace from any device. Whether you sell alcohol for consumption on- or off-premises, our training equips you with essential topics and skills to protect yourself and your business from potential liabilities.
By completing seller-server training and earning your certificate, you will increase your knowledge of state alcohol laws, identifying underage consumers, avoiding sales to intoxicated customers and much more.
Who Should Take Alcohol Seller-Server Training?
Seller-server training is typically required if you work in a business that serves or sells alcoholic beverages. Many states have laws and regulations that require this training for workers and employees who sell or serve alcohol for on- or off-premises consumption.
Examples of employees who need this training include:
Bartenders
Waiters
Servers
Restaurant employees
Cashiers who sell alcohol
Catering employees
Hospitality workers
Event organizers
Bouncers
Other workers in alcohol sales
Your employer may also require alcohol seller-server training and a certificate even if your state or local jurisdiction does not.
Training for On-and-Off-Premises Alcohol Sales
We offer a wide range of state-approved seller-server courses for on- and off-premises alcohol sales. Some states require alcohol sellers and servers to complete training for both. Others only require you to complete the one most relevant to your job role.
On- and off-premises refers to where the customer will consume the alcohol. If you sell alcohol that is consumed on-site, such as at a bar, you will need on-premises training. If you sell alcohol to be consumed anywhere other than your business, you likely need off-premises training.
On-premises locations include bars, restaurants, nightclubs or any other location where customers consume alcohol on-site. Off-premises locations include convenience stores, liquor stores and other businesses where on-site alcohol consumption is not permitted.
Both types of training provide the necessary knowledge and skills needed to sell and serve alcohol responsibly.
Alcohol Seller-Server Training Topics
The goal of this program is to train alcohol sellers and servers to comply with state and local alcohol laws. The course also prepares you to sell and serve alcohol responsibly by avoiding sales to underage and intoxicated customers.
Course topics include:
State-specific alcohol laws and regulations
Underage drinking laws
Impaired driving laws
Short- and long-term effects of alcohol use
Estimating a customer's blood alcohol concentration (BAC)
Identifying minors by appearance and behaviors
When and how to check for a valid ID
How to refuse alcohol service
If you're unsure whether your state or local jurisdiction requires seller-server training, speak with your employer about training requirements for your role.
Frequently Asked Questions
What is alcohol seller-server training?
State and local governments often require employees who sell or serve alcohol to complete seller-server training. This training prepares employees to serve alcohol safely and legally for on- or off-premises consumption.
How quickly can I obtain my certificate after completing the course?
After completing your training, you can instantly download and print your official Certificate of Completion.
Can I take the training 100% online?
Yes. Once you register for the course, you can train and complete the final exam 100% online. You will be able to download and print your certificate immediately after successfully passing the course.
Do I have to complete my training all at once?
No. You will be able to log in and out at your convenience and complete the course at your own pace.
How long will my course certificate be valid?
In many states, your certificate from alcohol seller-server training remains valid for three years. However, the term of validity may differ depending on your location. States and employers often require alcohol servers to retake seller-server training before their current certificate expires.