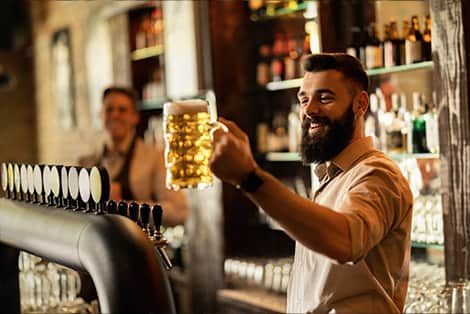 Earn Your Official Illinois BASSET Card Online
The BASSET Certification Program is designed to enhance public safety by ensuring alcohol servers are properly trained on state alcohol laws and regulations. Illinois requires all employees who sell or serve alcohol for on- or off-premise consumption to have a valid BASSET certification.
After completing this 100% online training, you will be prepared to sell alcoholic beverages responsibly and follow best practices to protect yourself and your business from liability. You will also learn how to prevent illegal sales to minors and intoxicated people.
You can download and print a temporary Illinois BASSET certificate immediately after you successfully complete the course and pass the final exam. Your temporary certificate is valid for 30 days, and you can provide it to your employer as proof of training while you wait to receive your official card from the Illinois Liquor Control Commission.
On-Premise vs. Off-Premise Training: What's the Difference?
On-premise BASSET certification is designed for employees who serve alcohol to customers who consume beverages on-site. Examples of on-premise locations include bars, clubs, hotels, airports and sports clubs.
Off-premise BASSET certification is required when the employee sells alcohol to be consumed off-site. These locations include liquor stores, gas stations, convenience stores and grocery stores.
If you sell alcohol for both on- and off-site consumption, you will need both certifications. eFoodcard offers a convenient BASSET certification course package that provides certification for both on- and off-premise sales.
Benefits of Online BASSET Certification Training
Our interactive BASSET certification courses are approved by the Illinois Liquor Control Commission and can be completed 100% online from any device. You can purchase on-premise training, off-premise training or a bundle containing both training programs.
The on-premise course will take at least four hours to complete. Off-premise certification training will take at least three hours to complete.
After completing your course, you can download and print a temporary certificate. You can provide this to your employer as proof of training completion while you wait for your official BASSET card to arrive. Your temporary certificate will remain valid for 30 days.
Your state-issued BASSET card will arrive in the mail, and it will remain valid for three years. You must retake the course every three years to renew your certification.
Why Do I Need a BASSET Certification?
To legally sell or serve alcohol in Illinois, you must complete BASSET certification training. However, certain counties may have unique rules and requirements. It's a good idea to verify training requirements for your role by asking your employer or reviewing local ordinances.
BASSET training provides tools and knowledge to prevent illegal alcohol sales and protect you and your business from liability. Earning your BASSET certification proves you are trained to promote responsible alcohol consumption, adhere to alcohol laws and avoid illegal sales and alcohol-related mishaps.
Frequently Asked Questions
Is your BASSET Certification Program state approved?
Yes, our program is approved by the Illinois Liquor Control Commission, which is in charge of the Beverage Alcohol Sellers and Servers Education and Training (BASSET) program. You can find our approval on the state's website listed under American Safety Council, our partner company.
How do I obtain my BASSET certification?
To earn your official BASSET certification card from the Illinois Liquor Control Commission, follow these steps:
Sign up for on-premise BASSET certification, off-premise BASSET certification or a course package containing both.
Verify that you selected the right course. Choose on-premise training if you work at a bar, restaurant or another business that allows on-premise alcohol consumption. Choose off-premise training if you work at a liquor store, grocery store or another location that sells alcohol only for off-site consumption.
Enter your personal information and complete the registration process.
Complete your online BASSET certification course.
Download and print your temporary certificate of completion immediately after finishing the course.
Receive your state-issued BASSET certification card by mail.
What topics are covered in BASSET training?
Course topics for BASSET certification training include:
Illinois alcohol statutes, local ordinances and DUI laws
Reporting violations to the Illinois Liquor Control Commission
Knowing the law
Knowing your customers
Knowing how and when to refuse service
Responsibilities of a seller-server
Identifying underage and intoxicated customers
Blood alcohol concentration (BAC)
Estimating BAC
What is a standard drink?
Driving under the influence
Prevention and intervention techniques
Signs and symptoms of alcohol poisoning
Laws about minors and alcohol
Penalties for alcohol-related offenses
Proper identification techniques
Dram shop laws and liability
And much more!
What are the testing requirements for BASSET certification?
Our BASSET Certification Program begins with a pre-test that assesses your current knowledge of responsible alcohol service. This test is ungraded. To complete the course and earn your certification, you must pass a quiz at the end of each module by scoring 70% or higher. You will have unlimited attempts to pass.
The course ends with a 20-question final exam that you have up to 180 minutes to complete. You must score 70% or higher to earn your certification. Like the quizzes, you have unlimited attempts to pass.
Does this course provide a state-approved BASSET card?
Yes. Upon successful completion of your training, the Illinois Liquor Control Commission will mail you an official BASSET certification card. While you wait for your card to arrive, you can use your course completion certificate to prove that you completed your required training.
How long does BASSET certification last?
Your certification will remain valid for three years after the issue date. Illinois requires alcohol sellers and servers to retake the course every three years to maintain their certification.
Who can I contact if I have any issues with BASSET training?
If you have questions about the course or need technical support, please get in touch with us. Our Customer Service Representatives will provide help and answer your questions as soon as possible.