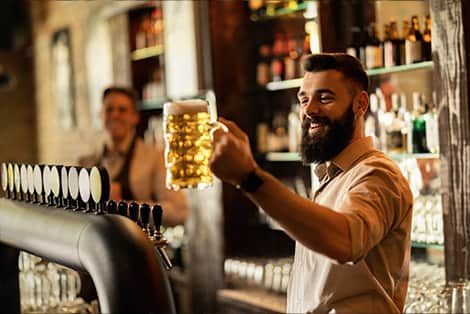 100% Online Texas Seller-Server Training
Many employers in Texas require bartenders, servers, cashiers, and other employees who sell or serve alcohol to complete an alcohol seller-server course approved by the Texas Alcoholic Beverage Commission (TABC).
TABC highly recommends Texas seller-server training for all employees who sell or serve alcohol. Throughout the course, you'll explore responsible serving practices and learn how to protect yourself and your employer from liability related to negligent alcohol sales.
As a certified seller-server, you will be prepared to identify and prevent alcohol sales to minors, intoxicated persons, and non-members of private clubs. Obtaining your TABC certification is easy. Throughout the two-hour online course, you will learn key skills and knowledge to prepare you to sell alcohol safely and responsibly in Texas.
After you complete the course, your certification card will be available to download and print immediately. Your certification remains valid for two years. In addition, we will report your course completion to TABC within 14 business days.
Who Is Required to Have a TABC Certification?
If your job role requires you to sell or serve alcoholic beverages to the public, you can benefit from a TABC certification. Earning this certification means you understand how to sell and serve alcohol responsibly in Texas and are trained to avoid liabilities.
State law does not require food and beverage workers to earn a TABC certification, but it is a mandatory requirement for many employers throughout the state. Your employer may require you to complete TABC-approved training before you start work or within a certain period after starting.
Examples of employees who need TABC certification can include:
Bartenders
Cocktail servers
Waiters
Food servers
Hosts
Cocktail servers
Sommeliers
Catering staff
Liquor store employees
Grocery store employees
Event organizers
Bouncers
Cashiers who sell alcohol
Other employees who sell alcohol to be consumed on- or off-site
Our online training program is approved by TABC to satisfy TABC seller-server training requirements.
About the Course
This online and TABC-approved course will teach you about Texas alcohol regulations, how to check for a valid ID, techniques for refusing alcohol service, and more. You'll gain a deeper understanding of your legal responsibilities as a seller or server of alcohol and learn how to protect yourself and your employer from legal consequences.
Course modules include:
TABC Seller-Server Training
Know the Laws
Preventing the Illegal Sale of Alcohol to Minors
Preventing the Illegal Sale of Alcohol to Intoxicated People
The curriculum is designed to meet the needs of employees who sell, serve, dispense, or deliver alcoholic beverages under the authority of a license or permit, including managers and business owners. One of the course's key aspects is teaching employees how to avoid illegal sales to minors or intoxicated people.
Upon finishing the course, you will be able to:
Understand Texas alcohol regulations
Identify laws concerning impaired driving and underage drinking
Recognize minors by their behaviors and appearance
Know when and how to check for a valid ID
Understand the short- and long-term effects of alcohol use on the body
Estimate a patron's blood alcohol concentration (BAC)
Responsibly refuse alcohol service
Verify with your current or potential employer if you are unsure whether you need a TABC certification.
Testing Requirements
The TABC certification course includes four learning modules, four end-of-module quizzes and a final exam. To earn your certification, you must complete the course, pass all quizzes and pass the final exam.
Each course module ends with a five-question quiz. To complete a module and continue to the next, you must pass the quiz with a score of 70% or higher. You have unlimited attempts to pass each quiz, so you can immediately try again if you do not pass.
Once you conclude your training and pass all module quizzes, you will be required to take a 25-question final exam. The exam is closed-book and has a 180-minute time limit. You have up to two attempts to pass with a score of 70% or higher. If you do not pass the exam after two tries, you will need to re-register for the course and start from the beginning.
You can download and print your TABC certification card immediately after you successfully pass the final exam.
Frequently Asked Questions
Is your seller-server course approved by the Texas Alcoholic Beverage Commission (TABC)?
Yes, we are a TABC-approved provider of alcohol seller-server training. You can find our course approval on the TABC website listed under American Safety Council.
How long is TABC certification valid?
Your TABC certification card is valid for two years after the date of course completion.
Do you report course completion to TABC?
Yes, we will notify the Texas Alcoholic Beverage Commission of your course completion within 14 days.
Does this course require me to have a Social Security number (SSN)?
Yes, the state of Texas requires all students of this course to provide a Social Security number for reporting purposes. Unfortunately, there are no exceptions. If you registered for the course and do not have a Social Security number, you can contact us to request a refund.
What happens if I don't pass the final exam?
You get two attempts to pass the final exam with a 70% or higher score. If you do not successfully pass the exam after two tries, you will need to re-register for the course and start your training over.
How can I contact customer service if I have any issues with training?
If you are experiencing issues with the course or have questions, please contact us for assistance.
What is your refund policy?
If you haven't attempted a test or exam, requested or received a certificate, or completed the course, you may be eligible for a refund. You must submit your request in writing (via email or post) within 30 days of purchase. You must also include proof of purchase and the reason you're seeking a refund. If you've already started the course, there will be a $5.00 administrative fee deducted from your refund. For more information, see our full refund policy.